Kelsey Media Productions Boston's Best Social Media Marketing
Contact us today so we can get started on your SMM campaign right away! Why wait? Your customers won't!
Despite the importance of social media to any company's advertising plan today, there are far too many businesses that have not yet created social media profiles for their business and products. Social media represents one of the most essential facets of a healthy online marketing campaign. Social media marketing even impacts the traditional advertising in which a company engages, such as print and local graphic advertising.
Studies routinely show how valuable brand recognition is to all businesses, and social media is an amazing tool for building brand notoriety and presence. Whether its a campaign for office equipment or cheap trendy clothes for women, every brand has a need for social media. Just like a candidate for a political office might plaster his or her name around town to create name recognition, a healthy social media campaign offers a company the same opportunity. New customers or potential clients will see and recognize a brand and may associate it with a positive social media experience.
Advertising and marketing each cost money, and "organic" growth of a company's reputation is incredibly important within the digital realm. Social media presents itself as a friendly way in which a customer can interact with a company. When used correctly, a company's social media presence doesn't feel like an advertisement, and a business may use this feature to its advantage by building a following of "friends" who just happen to be customers. Just like the early years of the internet and the beginning of internet marketing, social media marketing is going through changes and growing pains right now. Investing in social media marketing today means that a company will be able to implement the newest strategies and techniques immediately. For example, many companies aren't just focusing their social media campaigns upon the entire company, but are creating highly targeted pages and feeds for specific products or services. Social media networking is an aspect of internet marketing that offers no downside and puts a company's image and brand right in front of a targeted and interested audience.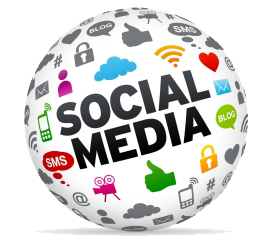 What can Social Media do for you?

Create More Brand Awareness

Drive Traffic to Your Site

Find Targeted Customers in Your Niche

Scale Your Business Quickly

Communicate With Your Audience

Build Social Backlinks Organically
Kelsey Media Productions Social Media Services: Set-Up for Social Media account, Site Management 24/7, Facebook Custom Applications, 1x or 5 x weekly status updates targeted for social interaction, responding to customer requests, Facebook/Twitter advertising, adding Social Media Plugins to your website pages and more.